Contact Us


We look forward to hearing from you if you wish to book a holiday, or have any questions about our caravans, the park or the local area.

If writing your own email, the email address to send it to is:





In your message please include the dates, how many adults over 21 / children and the breed of your dog, if you would be taking one. No pet caravans are available.

Please check your email account's 'Spam' or 'Junk' folder for mis-directed replies.

Thank you for your interest and we look forward to hearing from you.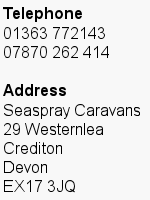 News / Late Deals

NEW LISTINGS

523 Pentreath View
Large decking area with
ramp and gate. Views
across the sand dunes

11 Atlantic Heights
Beautiful 2 bed caravan
C/H, D/G & 2 WCs
Situated behind 14 AH
Near to 15 AH & 735 KV

15 Atlantic Heights
Next door to 14 A H
Modern caravan with a rare layout having the lounge and kitchen separate

554 Pentreath View
Stunning 3 bedroom with
breathtaking sea views
and a built-on front deck

- - -

UPDATED FOR 2021
303 Piran Point
has been refurbished
with a brand new kitchen, larger TV, more heating and
updated lounge / dining area

- - -

For our available dates,
please click here

- - -

For quotes, please
email the dates and details of your party.